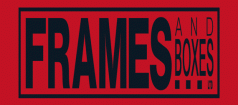 With over 35 years experience and as award-winning, Guild Commended framer, Frames and Boxes can help you with whatever you need framing. With over 600 frame mouldings and a large selection of mount colours, the team can help and advise to show off your item to it's best. Customers can be sure of a high quality service and help to make the right choice for the item they wish to have framed.
The company also makes 3D box frames and display boxes for whatever you may collect or need to display, such as your baby's first shoes, a football shirt, collection of model trains, or even thimbles.
Frames and Boxes can provide its services throughout the UK.
Opening hours: Monday-Friday am-5.30pm, Saturday 9am-4.30pm.