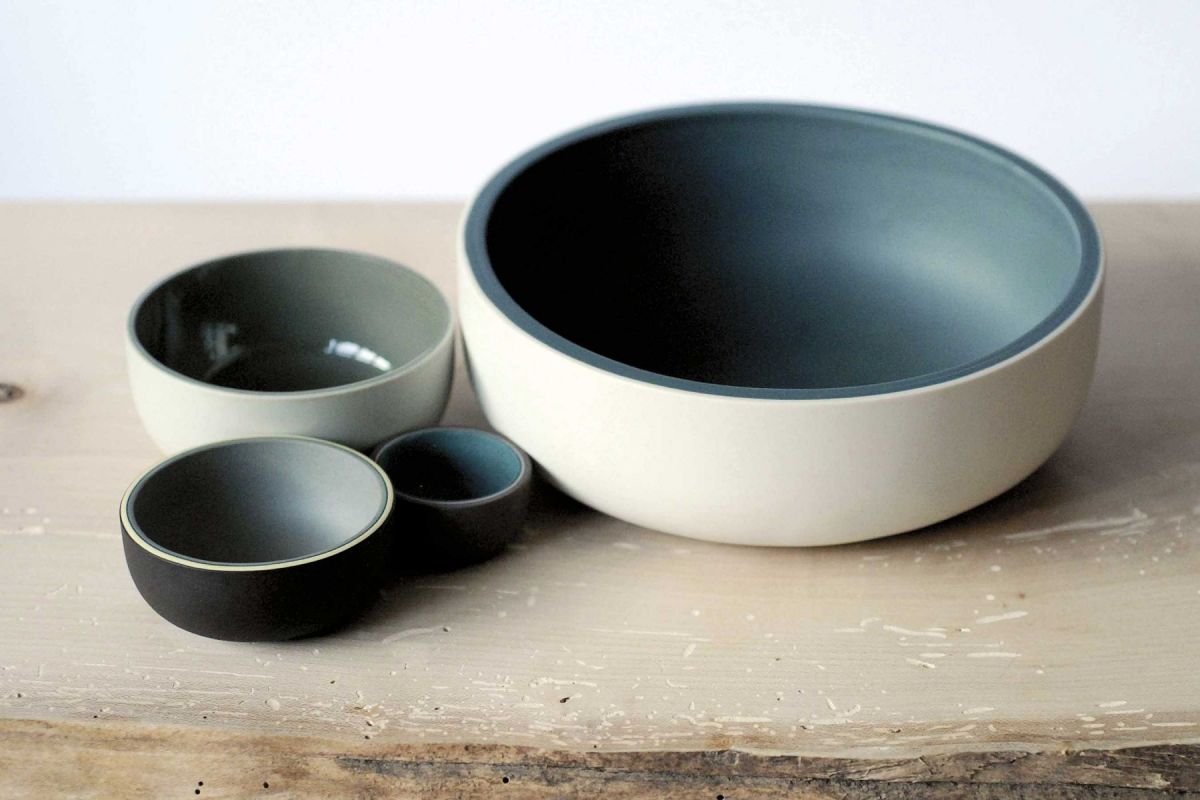 The Devon Guild of Craftsmen, a hub for 250 of the South West's best makers, is an award-winning exhibition and retail space for contemporary craft and design. The meaning of 'contemporary' is variable, as Marketing Manager Simon Williams explains: "Our membership includes modern crafts as well as traditional and skilful basket makers, thatchers and iron makers. The key is in the crafts' contemporary application, with finished products being more artistic and innovative than purely practical."
Most best-selling items have a functional element. Original textiles include Penny Seume's handmade linen lampshades (from £42) and endearing woodland creature cushions by Hugh Dunford-Wood (£65), who also makes delightful hand-painted wallpaper. Woodcarving is a common theme. Take Paula Nolan's inlayed keepsake boxes (from £30) or her Japanese warrior showpiece (£4,500), or the English maple and walnut boxes which are just a taster of what master furniture-maker Edward Wild can set his hand to. North Devon blacksmith James Kendrew displays grand iron candlesticks to suit a stately fireplace in a historical property (£480-£795), and if your spacious hallway needs a striking feature, consider Chris Elmer's large mirror edged with cherry and dark bark (£495).  
The Guild is a network of artists and makers formed in the mid-1950s, a crucial time for the rise of crafts in post-war England. Founded by furniture-maker Edward Baly, the Guild exhibited at venues including Torre Abbey, Buckfast Abbey and Birdwood House in Totnes. Since its inception in 1955 with just 20 members, it has evolved into a leading national charity for craft education. "Most of our work involves professional development – steering new aspiring makers out of college into a creative career path," says Simon. "Our innovative education programme Big Hand, Little Hand enables craft practitioners to work with local schools, engaging children of all ages in fun, hands-on craft and design workshops."
Every piece of pottery, blown glass, bejewelled accessory and printed card on display is ethically sourced and handmade, often with locally produced, natural materials, so buying a one-off artwork is not only a great investment, but also an opportunity to support the local economy and contribute to a living wage for the artists. "The Westcountry has a strong environmental ethic and as a region we have a strong awareness of the importance and value of local produce," adds Simon. "I think the Guild is a rare place, and we're proud that our USP of purely regional crafts keeps our offering fresh and dynamic."
The Devon Guild of Craftsmen has been based at Grade II Listed Riverside Mill in Bovey Tracey since 1986 and today employs 30 staff, playing a part in enriching the county's cultural calendar. The Guild partners the Contemporary Craft Fair in June and showcases 10 makers for Devon Open Studios every September – a chance to see artists in their own workspace. 
Beautifully produced exhibitions teach visitors about how things are made and used whilst demonstrating how cultures make and trade in today's urban and rural environments. To celebrate the organisation's 60th anniversary next year, a new project called Freehand explores the notion of freedom, working with asylum seekers and the prison service to create signature artworks. A touring grant from the Arts Council has enabled the Guild to run a national exhibition and community development project called Home Ground, linking regional craft industries and football clubs such as Stoke City (The Potters), Macclesfield Town (The Silkmen) and Luton Town (The Hatters), which were founded as a form of entertainment for the workers. 
For the festive season, works from 50 British designer-makers will form MAKE 2014, a treasure trove of contemporary crafts for Christmas. With pieces to suit every budget, unusual gifts abound alongside new ways to brighten up your home with a little sparkle this winter. 
"People who visit us tend to dabble in arts and crafts themselves and come looking for inspiration," explains Simon, "so the Guild can give them a spurt to their creative momentum." For the full experience, you can connect direct with makers via regular workshops. If you see artwork you love but would prefer different dimensions or motifs, why not commission the artist directly through the Guild at no extra cost - a fantastic way to immerse yourself in the creative process to produce a bespoke piece for your own home.
Devon Guild of Craftsmen is open seven days a week from 10am-5.30pm (café closes 5pm November-February).