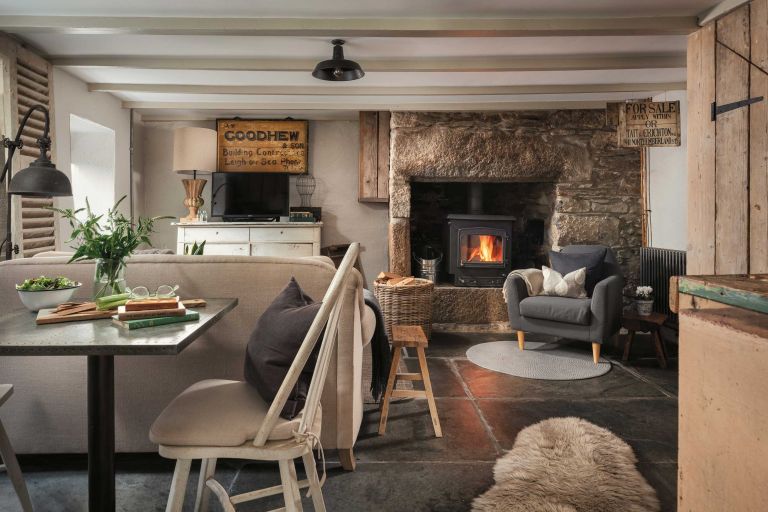 Rural Retreat
"Country cottage is making a big comeback," says Torquay-based interior designer and stylist Demi Keenan. "Bring in that rustic, chic appearance with bare wood and perhaps an upcycled old farmhouse kitchen table."
Chintzy, flowery fabrics mixed with stripes can bring a real sense of rural living to your kitchen, whatever size or shape it is. Patterned wall tiles, terracotta shades and wooden floors will add real heart to the centre of your home.
Paul Hervey from PHI Concepts – the interiors firm that works with Boutique Retreats high-end holiday lets – says just introducing a few carefully chosen accessories can make all the difference: "Adding an olive wood chopping board, a rustic pestle and mortar, some vintage weighing scales, or hanging dried herbs or woven plaits of garlic can really help to make your kitchen a lovely space to work and just be in."
Want some sage advice on colours? Sage green is the choice of the season, whether it's paint, cabinetry or tiles, the shade is popping up everywhere.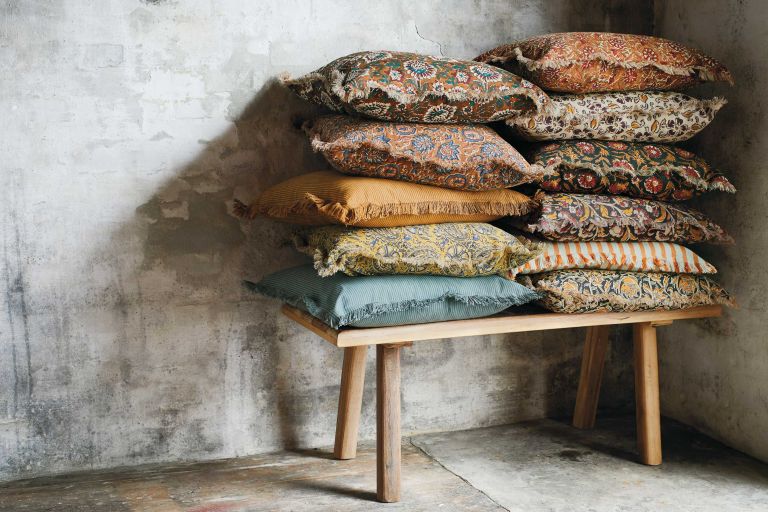 Big, Wide World
Explore global cultures from the comfort of your sofa (with an animal print throw, of course). This season is all about celebrating the big, wide world with earthy tones, natural woods, rattan – anything that adds a far-away feel to your living room. "African animal prints and pictures with beautiful natural elements all around will add to the look," says Demi. "This one will be staying around for a while."
Natural throws, sheepskins and vibrantly coloured cushions on sofas and chairs create areas of comfort and style – somewhere to put your feet up and admire your lovely living space. For the bold and the brave, try contrasting and conflicting patterns and shades. "Styled tastefully, this can be such a wow-y theme," adds Demi.
Think about your lighting arrangements. "For winter, it's easy to cosy up rooms with additional table lamps to give a soft, welcoming glow, rather than harsh, unforgiving overhead lighting," says Paul.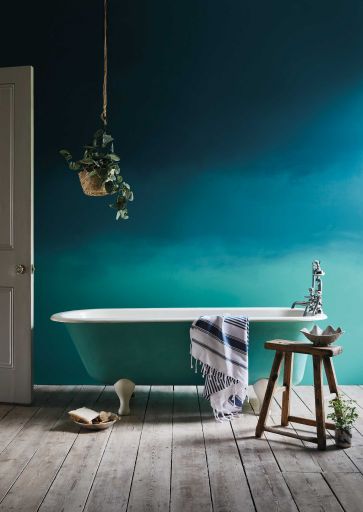 Bathroom Sanctuary
The bathroom should be a real sanctuary – a place to lie back and soak away all your troubles. With a few simple colour changes here and there, you can easily make your bathroom feel luxuriously cosy this season. Add extra fluffy towels and beautifully packaged toiletries for an instantly comforting feel.
"Scented candles add light and glow," says Paul. "Think of sandalwood, wild fig and even the smell of a winter bonfire. It all helps our mind to adapt to a slower pace of life and gentle, quiet contemplation."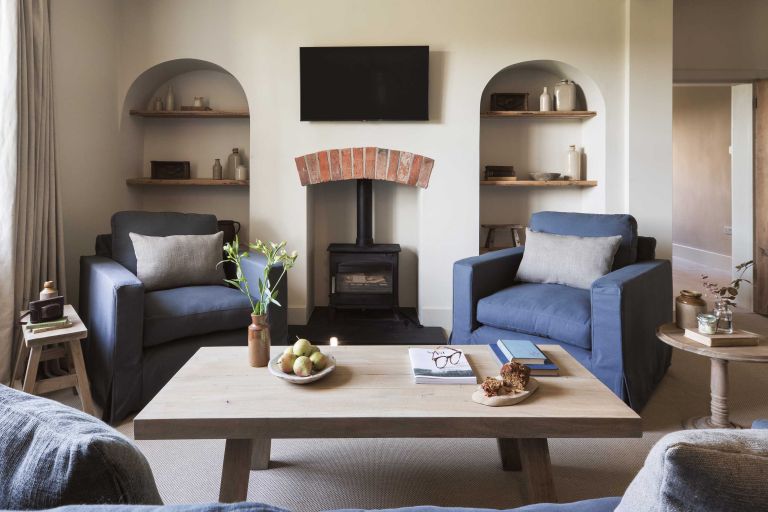 Take a Seat
Embrace your interiors heritage and reupholster vintage chairs to give them a new, modern feel. 'Rustic vogue' is the trend of the moment, an elegant, sophisticated look, working alongside your home's original features but adding natural textures in deep, bold or dark colours.
"It's a delight for the senses," says Demi. "It's glamorous-feel living with rich, luxurious tones and textures. Adding vintage pieces to contrast is the new lux."
Add tasteful bold colours to your walls, with matching painted skirtings and window frames for continuity and flow. Keep the woodwork the same colour too, but perhaps with a different paint, such as satin to give a slight sheen. "This is very classy, especially if you have panelled walls," says Demi.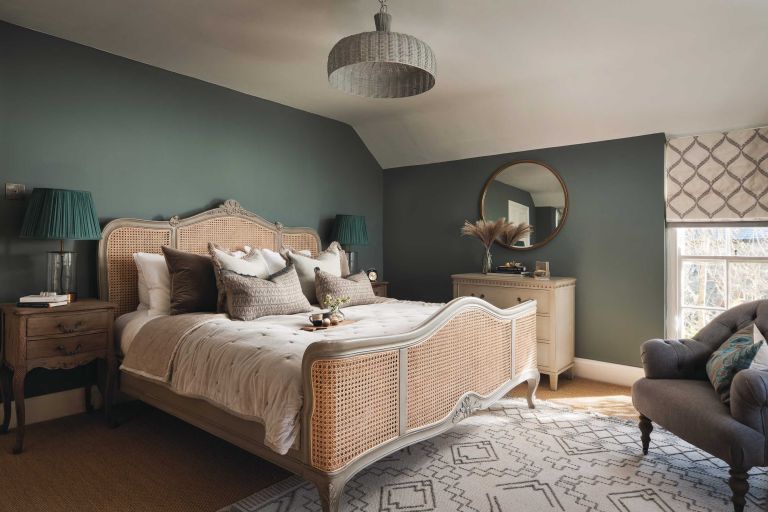 Bedded Bliss
It's time to be daring in the bedroom. Statement wallpaper and creative wall finishes, such as polished plaster or even an incredible mural, will inject your personality into this very important room.
Caroline Palk of Ashton House Design in Ashburton says your bedroom should be the focus of your interior efforts with layers of linens, wools and velvets, all textural and tactile. "Set these against a wallpaper panel fuelled with colour, texture and pictorial appeal," she says. Key colours include rich reds and oranges, mustard yellows and bold greens, with blues continuing to prove popular for a classic, timeless scheme.
Put your bed at the centre of it all, making it the first thing you see when you enter the room. "The new art is a stunning headboard feature," says Demi. "Make your own or have them made by your local upholsterer. Go tall, elegant and almost regal with your choice of bold prints or subtle shades. These things of beauty will make you happy every day."
There's a growing trend for matching bedside wall lights, adding a tailored, upmarket hotel-like approach to styling your bedroom.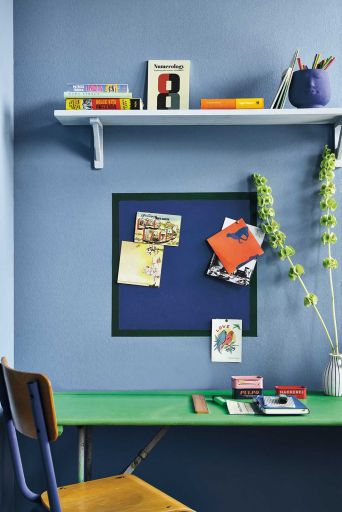 Warm up your Workspace
It is really crucial to work in a bright and inspiring space – how else will you get your creative juices going?
This is key all year round but even more important when the nights draw in and your desk lamp has to go on at 4pm. Strip lights, neon signs and filters can add a bright glow, while cheerful tones can bring warmth to your workspace. "Think of warm sunsets and the alluring cocktail hour," says Caroline, adding that this autumn/winter is all about keeping the summer vibe alive. "The setting of the sun brings to mind a palette of colours, a warmth and a conviviality."
Leave space for your big ideas. Add a cork wall, so you can pin plans, notices, rough drafts, kids' pictures, whatever your workspace needs to feel happy.
Finally, don't forget to bring some 1970s cheese plant vibe to the daily grind. Greenery should still be very much part of your home's look. "Succulents have taken a big stride this year," says Demi. "They're easy to keep. Place them everywhere for maximum pleasure!"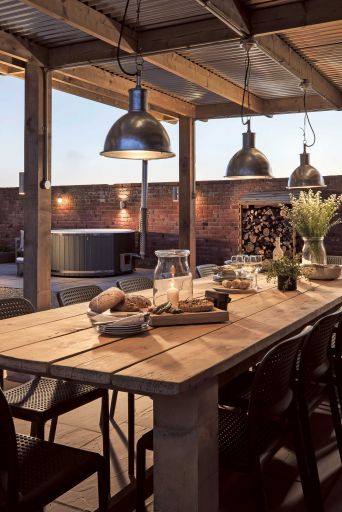 Enjoy the Garden
As we've all learnt, just because it's cold outside, doesn't mean we can't go outside. With a little help from the experts, you can create a temporary or permanent hang-out or even a workspace in your plot. The team at In Ex Design, based in Lympstone, make amazing garden pods. Kit yourself out with some soft woollen throws, a roaring fire and get out there.
Get the Look, Locally
Tiny Utopia in Torquay is a great indoor plant shop, specialising in all things green: www.tinyutopia.co.uk
For local upholsterers, try: www.terrymanningupholstery.co.uk, www.upholsterytiverton.co.uk and www.my-gaff.com
Annie Sloan paint stockists include Shore Drift in Bideford, Vintage Now Interiors in Newton Abbot and Brewers in Exeter
For statement lighting and shades, see: www.lovefrankie.com and www.amoslighting.co.uk
For a rustic vogue look, visit: www.theforestandco.com
For more inspiration, see: www.demikeenaninteriors.co.uk, www.phiconcepts.co.uk, www.ashtonhousedesign.co.uk and www.inexdesign.co.uk