Some years ago, in the time before children, I went skiing near Lake Tahoe with a group of friends. One of my most treasured memories is of sinking into the communal hot tub in the evening, beer in hand, swapping stories of the day's thrills and spills. Now, hot tubs are a popular feature of the domestic market, with many Devon homes boasting a bubbling pool out on the patio.  
Harris Pools in Torquay is the exclusive dealer in Devon for the Jacuzzi brand of hot tubs. Director Kris German says in the main his customers are either families wanting a hot tub for pleasure, or individuals looking for hydrotherapy to help with back and muscle problems. "We've supplied hot tubs to people struggling with long-term neck and back issues, as well as sports types who regularly see physiotherapists. Hot tubs won't cure the problem but they are great for easing the pain and giving extra relief." Kris adds that many customers tell him they use their hot tub to help them de-stress after work. "As long as they turn their mobile phone off, they can really relax under the night sky." 
The entire Harris Pools range is acrylic with weatherproof skirting and a heat retention cover as standard. "This means that once a hot tub has been set up, it is very economical to run." Harris Pools has been installing pools for 33 years and specialises in providing high-quality aftercare.
Another acrylic hot tub specialist is Hydropool Devon, based in Kingskerswell. Its exclusive self-cleaning range cleans 100% of the water in the tub every 15 minutes. The smallest model is suitable for two people and can be installed on balconies or roof terraces – perfect if you have an apartment. If you're after family fun, the Swim Spa range is a hybrid between a pool and a hot tub, with one end offering a swim zone and the other a sitting area with hydrotherapy jets. The higher-spec end of the range is ideal for athletes in training and can even be beneficial for injuries. 
Sales Manager Michael Harrison-Hastings used one after a serious knee operation last year and believes it helped his recovery no end. Michael estimates a 50-50 split between the popularity of hot tubs and swim spas, depending on the depth of a customer's pocket. Either way, the models are all efficient to run, as instead of using foam, Hydropool Devon uses a foil-wrap style of insulation, similar to the material used in NASA spacesuits – perhaps this also helps you to imagine you're floating in space. 
If you are in the market for a more natural bathing experience, take a look at the beautifully crafted hot tubs made from kiln-dried red cedar wood by South West Spas in Exeter. These superb tubs are built in-county using wood imported from Canada. "These are aesthetically pleasing hot tubs that will really enhance a garden," says Alan Cope, South West Spas' Director. "The wood comes from the Western Red Cedar tree, which is a perfect material for hot tubs – the aroma is delightful and the tubs have a tactile quality that family and guests will really appreciate." Alan is something of a local 'hot tub guru', having worked in this niche sector since 2005, in both the French Alps and the South West. If you are lucky enough to have a large garden or woodland, these wooden hot tubs can be heated using a log-burning stove, so you can site them in more remote and secluded places. You can also specify jets if you so desire, but bear in mind the hot tub will have to be connected to an electricity supply, as with the acrylic models. Installation is very simple, as Alan explains: "We make each hot tub individually, and take it as a flat-pack to the site, where we install the tub and the plumbing."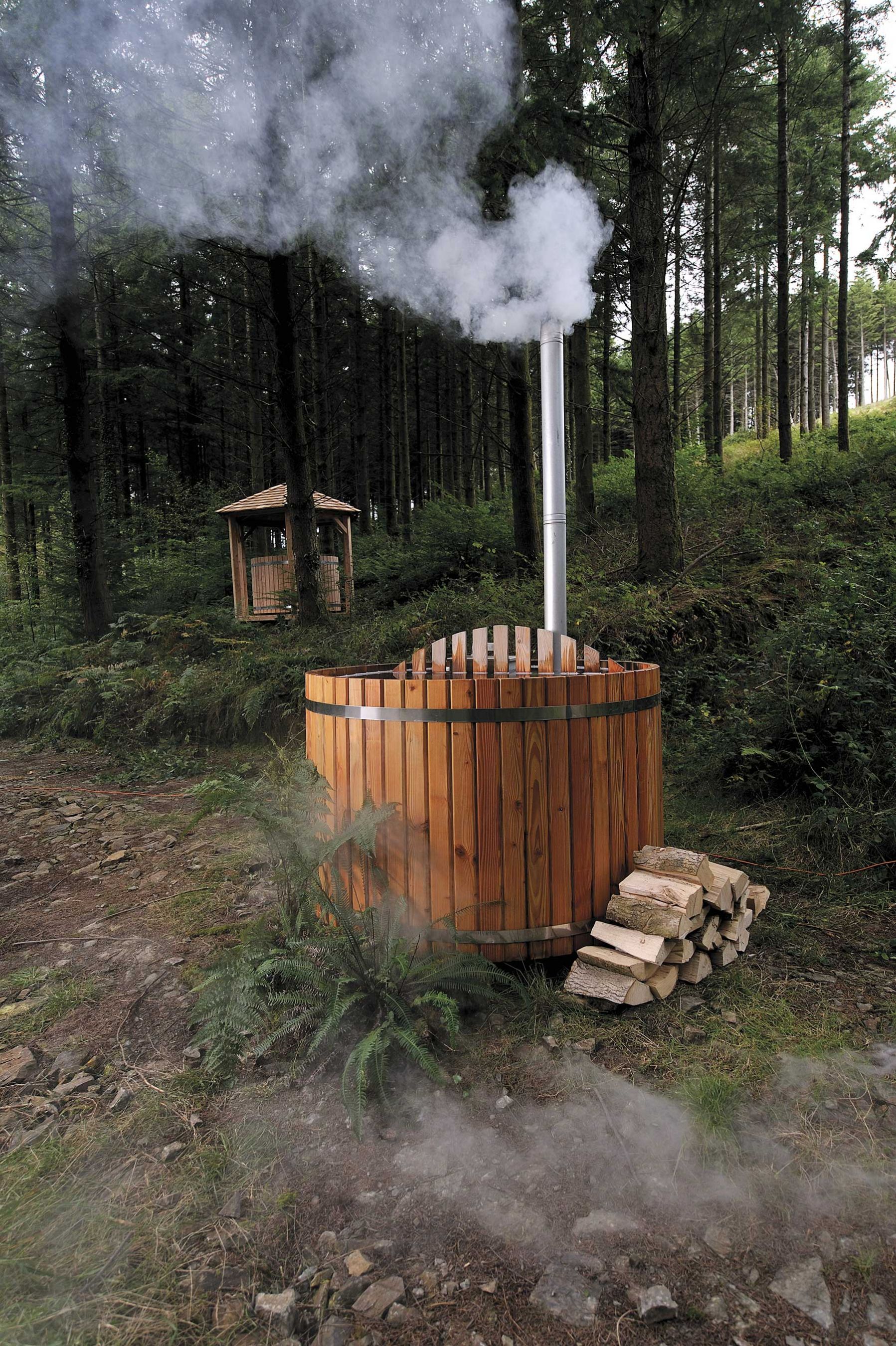 Hire a Hot Tub
If you're not in the market to buy a hot tub, but like the idea of hiring one for a weekend for a party, hen event or anniversary do, Devon Woodcraft can bring a simple wooden model to your home for you to hire. These hot tubs don't have jets, so there's no requirement for an electricity connection. Just find a convenient and sheltered spot and off you go. Ed Phillips, who runs Devon Woodcraft, says you will need a 2m x 2m flat area, and a water supply within 30 metres. "The tubs use around 1,600 litres of water and are heated using traditional firewood. We include plenty of firewood for the duration of the hire, which incorporates some training to ensure safe operation." Hot tub hire is available for weekends, mid-week, long weekends or even a whole week. 
This is surely the perfect way to relax, under the open sky, with your friends. Mine's a glass of chilled Prosecco, please.